SoundDevX - Sound FX Generator
We have rebranded this tool as SoundDevX!

SoundDevX is an in-house sound effect creation software created to aid video game developers in generating sounds for video games.

Soundgen provides the option of exporting sound files as .webm, which the user can then easily convert to whatever file extention they prefer by using a sound converter such as this: https://convertio.co/pt/webm-ogg/

FEATURES:
- Multiple soundwaves to modify.
- Easy Pitch Modulation tools with up to 2 layers.
- Up to 9 effects to be added, each with multiple sliders to experiment with.
- Up to 9 Filters that can be added to tweak the sound quality, including a compressor.
- Many Different Presets to experiment with.
- Import Custom Sounds from your computer and modify them within the tool.
- Record Uitility: Record sounds from your mic and import them back to SoundGen where you can modify them.
- Record your sound to use it on your games! (only .ogg and .webm currently available)
- Save your presets to modify them later or just share it with other people. (Custom sounds cannot be shared as they are not stored within the tool.)

Why Create this tool?
Creating sound effects can be difficult as sound is a complex subject matter that often requires extensive knowledge to create. After messing with different software out there, we realized that even tools that try to make it easier for developers to create sound effects, can still be quite confusing, as many options that would seem obvious, are lacking and often achieved through convoluted processes.
For this reason we decided to create a tool with intuitive options that allows users to easily create sounds and experiment with them.

Additionally, most sound Fx tools out there only allow to create 8-bit or 16-bit sounds. SoundGen allows users to create both 8-bit and 16-bit sounds as well as high quality sounds.

Offline versions available for every platform

If you like our tool consider following us on Twitter!

| | |
| --- | --- |
| Status | Released |
| Category | Tool |
| Platforms | Windows, macOS, Linux, HTML5 |
| Rating | |
| Author | Widsey Creative Studios |
| Made with | Construct |
| Tags | Audio, sound, sound-creator, sound-design, Sound effects, sound-effects-generator, sound-fx, sound-generator, sounds, sounds-for-games |
Download
Click download now to get access to the following files:
Comments
Log in with itch.io to leave a comment.
Hey everyone! Hope you're enjoying our software :)
If you have suggestions or new presets you'd like to see added let us know. If you like our software help us spread the word and share it with others!

Consider following us on Twitter

Happy Sound Design!

I'm unable to open the Mac OS X version, this is all that I get -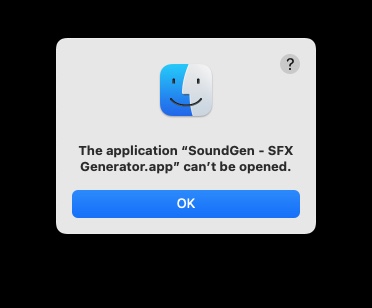 Is there something I can do to open this file?
Hello! We have added a new version of the software, and updated the MacOs file. We also uploaded an alternative MacOs file that should work in case the regular one doesn't.

Greetings, this is going to be a bit random, perhaps, but I was unable to locate another form of contact and I am in need of a Pixel Artist. Are you taking comissions? If you could contact me at raphaeldelmaschio at gmail dot com that would be nice.
Kind regards,
Raphael.
Hello Raphael, I apologize for the late response.
That is quite alright, I have a twitter page where I take commissions, you can find it here:
https://twitter.com/Cr_Method

Thank you!

Hello, I know this program was created just for using sound effects but I accidentally made a sick beat with a custom sound file and when I save it as an mp3 it just has this screech fade in-->out echo effect while effectively only lasting 1 second long while looking like this:


Any tips on what I should do?
Hey! Thank you for your feedback :) I apologize for the long time to respond, I only saw your comment today.
Try exporting it as webm and converting it into mp3 using a conversion software. Webm seems to be the most stable file format at the moment.

I apologize for the inconvenience.
Hello again, thanks to the reply you sent me I was able to properly get a functioning audio file! The main problem I had was I was saving the file as a preset .sound --> .mp3/.wav file and the conversion for any of the files created were unable to be converted, even for viewing in audacity I had to import it as raw data to see half a second of sine waves wondering why it was. But I believed what you replied with was the truth and still the key to solve my situation and eventually after trying to convert every common file I could think of with no progress I tried loading it up again and went default settings + custom file and tried using the [START RECORDING] button and saw there was only a .webm option and it worked! I retuned the effects, recorded it, and converted it to .mp3 I got what I was listening to in the app.

Thank You Very Much!
No problem! Gald you got it working :)
I see now what you meant before, you had saved it as a preset only, which only saves a file to be used in the software if you need to edit your sounds for example. It's not meant to export. I realize that it may be a bit confusing, maybe I'll change that and try to make it more intuitive.

Cheers!

Would've been great to have previewed the sound each time you change any of the effects. Only after you're happy with that sound, you should export it.

Right now it's really cumbersome to change effect > start recording > wait > hit cancel (you're not happy with the sound) > change effect > start recording > wait ,etc.

Hey Alex! Thank you for the feedback :)
Do you mean the sound playing automatically each time a slider is changed? Instead of having to press the play button?

In order to preview the sound without recording it you can just hit the button "Play" and you can stop it whenever you wish by hitting the Stop button next to it. That way it won't be recorded, just previewed.

Hi Ed,

"Do you mean the sound playing automatically each time a slider is changed? Instead of having to press the play button?"

YES exactly. That would be great :)
Can you do that? Is it hard?
I will see what I can do :)

Hello Rogerty! It's been a while but we have finally managed to add the feature you requested, feel free to try it out :)